Directions
3165 McGillivray Blvd Winnipeg, MB R3Y 1G5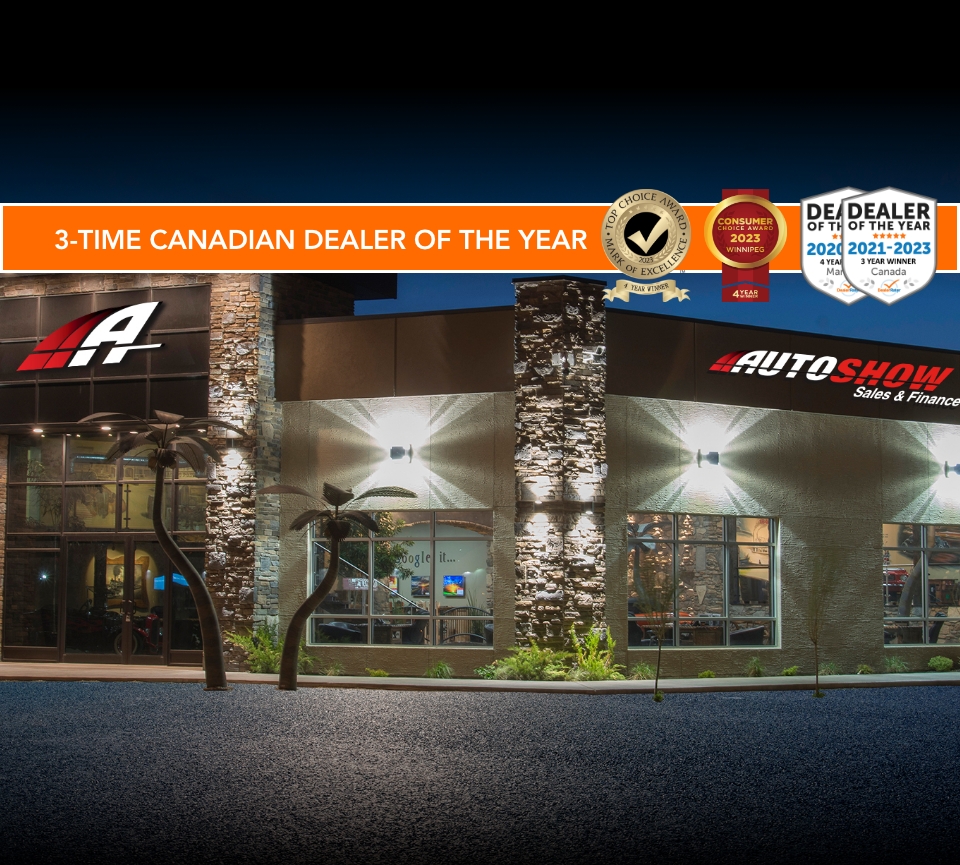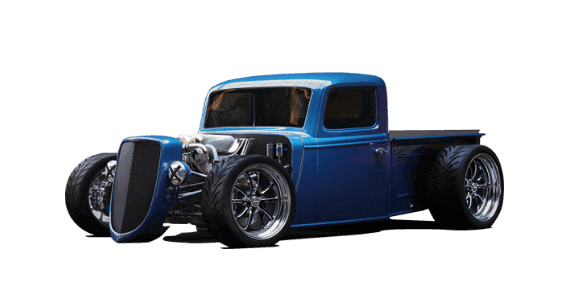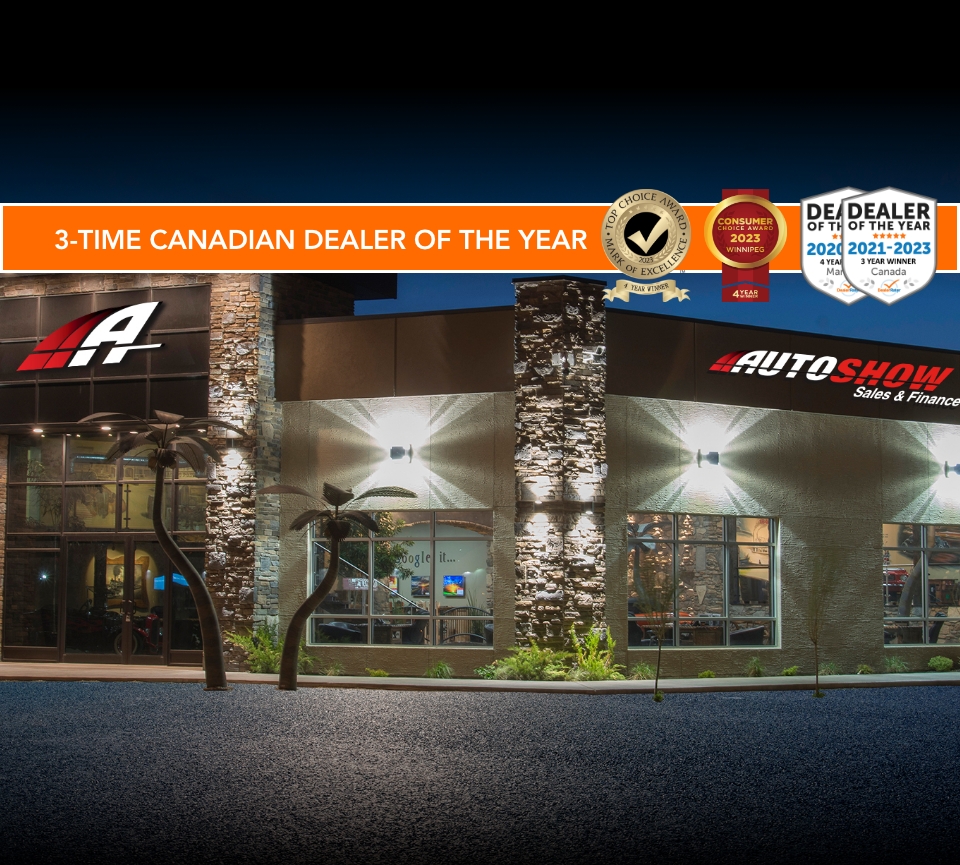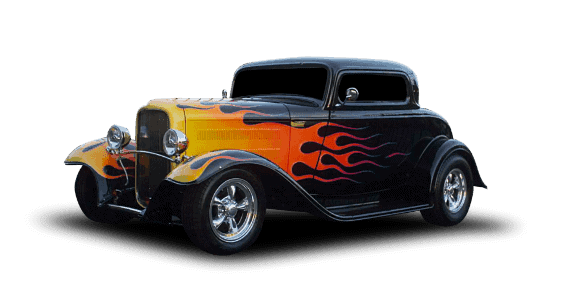 Welcome to Auto Show, your Winnipeg Pre-Owned Automotive Dealer
Auto Show is Winnipeg's premier used car and used truck dealer! Locally owned and operated, we were founded with the belief that a more lighthearted approach to shopping was possible. Too many times we hear dislike expressed for the used vehicle purchasing process, and although there are certainly many fine retailers…
CONTINUE


YES INDEED! OUR INVENTORY IS EXTREMELY DIVERSE!!!
Whether your style is conservative or outlandish, bright or sleek, chances are good you'll find it with us at Auto Show. Everything from Sport and Performance. Sharp Lifted Trucks. Tough Diesels. Heavy Duty work used trucks, Camper Pullers, Luxury, used SUV's, pre-owned quality cars, used RVs, Campers and yea, just every day drivers!!! If we don't have it lol, just ask and we will find it!
Simply put, you'll find our passion is in delivering your driving passion!!
"LIL PETE"  AKA 'Pete Zilla'
X
This is an OLD SCHOOL  1982 CABOVER PETERBILT PICK UP!!!
Custom built and guaranteed to  turn heads everywhere you go. This build seriously shortened this Big Rig frame, and in fact is shorter than many pick ups!! Fitted with a Ford Dually box, the total length is amazingly under 5 meters long, about the same as a Honda Pilot SUV.  And, yes, it rolls Black Coal from the Detroit diesel stack as you push through 10  tough to find gears  in the old Eaton Fuller mixer.
After much persistence,  Sask. Rush owner Bruce Urban from Western RV relented and sold
this old timer to Auto Show used car dealers Winnipeg. Thanks Bruce, we love Pete Zilla!
COOL CUSTOM 'SEMA' BUILD '05 CANYON
X
Take a look at this COOL CUSTOM 'SEMA' BUILD '05 CANYON……personally autographed by
Van Halen!!!  Auto Show acquired this in 2019 for display and marketing. If interested in this
'LIFE OF THE PARTY TRUCK' it will be coming up for sale during summer of 2020 at Auto Show used truck dealerships Winnipeg.
Open up the  link below to view 'TRUCK TREND'S' special feature on the Canyon
http://www.trucktrend.com/cool-trucks/0603st-custom-2005-gmc-canyon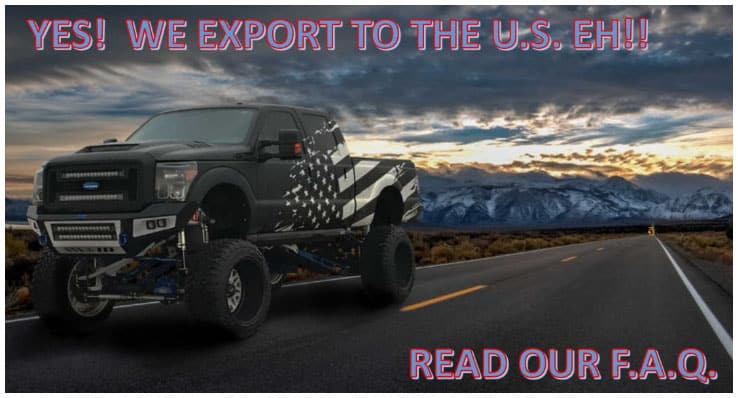 U.S. Export
Live outside of Winnipeg, Manitoba, or even outside of Canada? Let us be your guide. Without experience, the nuances of navigating import regulations can be daunting, our team makes it easy. You'll work with a bonded customs broker, internationally located, and 35 years established. Take a virtual tour of our facility, and don't hesitate to ask for additional photos, video, or even a live video chat. Whether you choose to make the trip in to visit our used car dealership, or prefer to have the vehicle shipped to you, our over-arching goal is always your satisfaction.
CHECK OUT OUR REVIEWS
Had a fantastic vehicle purchase experience created by super friendly, welcoming, caring , devoted and most importantly professional and experienced...
Yulia Hlukhanyk, September 13, 2023
I was in the market for a new vehicle for some time, I met Kale and got to know him over a few visits and I gotta say his approach to vehicle sales...
Greg Unrau, August 18, 2023
Excellent place to do business with. Reid contacted me and was very friendly and knowledgeable. I wouldn't hesitate to go back. If I were in the...
Donovan Gillis, July 13, 2023
My experience at Auto Show Sales & Finance was amazing. They are all so kind and helpful, and made getting a new vehicle (that was right for me)...
Joseph Cross, April 15, 2023
I never know who to trust with vehicles and chose to try Auto Show after seeing they had a couple of vehicles I was considering and after reviewing...
Stephanie Warkentine, May 19, 2023
What a great experience I had with Auto Show. I purchased a corvette from them, I am so happy with car. The staff were great to work with and deal with....
Mark Petrie, June 20, 2023
My husband and I were looking for a good used vehicle. He did some research and found one he liked at Auto Show. We went in and took a Nissan Murano...
Lillian Branscombe, March 6, 2023
Great dealership, atmosphere is amazing with all the nice cars, pool table and lounge area. Everyone was very welcoming and made sure snacks and drinks...
Jeffrey Lyle, February 8, 2023
I came here with my brother in law. He was selling his vehicle. Honestly the gentleman we dealt with, Reid and Harley were absolutely amazing to deal...
S M, January 10, 2023
Autoshow is a store that surprised me, they have efficient service, and they are very friendly and patiently explain everything to me. I am lucky to...
Kevin, December 19, 2022
...
Colleen MacLaren, November 22, 2022
Couldn't be happier with my experience at Auto Show! From the moment I had Mark on the phone I knew I was in for a great experience. I explained...
D F, August 16, 2022
I brought a car from here recently, Daniel is the best used car dealer I ever met! This place is very cozy and beautiful with the decorations. Daniel...
Flora su, September 21, 2022
Auto Show Sales & Finance hit it out of the ball park!
I was looking for a new vehicle that met all of my needs and wants and the sales team...
kathryn eggie, October 25, 2022
I had a wonderful experience purchasing my dream car BMW X5 M package used. The process was stress-free and pleasant. David Thompson was efficient and...
AbdelRahman ElGammal, June 3, 2022
Bought my dream truck here, during my inquiry I was amaze by their lobby it's like I'm at 5 star hotel, staff are so friendly and accommodating,...
christian jerome flores, July 25, 2022
great experience buying my 2019 ram from these guys! shopping...
rando, May 17, 2022
Purchased a used vehicle here and the entire experience was positive. We were greeted by a very friendly and knowledgeable salesperson on arrival and...
Jdhaslam1, May 1, 2022
Hands down best used car buying experience I've ever had. Great people and great selection on vehicles.
Hands down best used car buying...
Justin Zinyk, April 6, 2022
We had a fantastic experience with Auto Show Winnipeg. Our family will be growing by three this year, so we knew we needed to trade in our crossover...
Stephanie Kroeker, April 7, 2022
Bought a car from Here couple days ago this place looks very nice and friendly, mark was very good to deal with, and easy going..
Joe gm was...
Bruno Rodrigues, February 15, 2022
I cannot recommend AutoShow enough! We bought our GMC Sierra in one day! Joe and the whole staff were amazing from minute one and made the process easy...
Keeping Up With A and B, March 20, 2022
Had a great experience getting know Kale and David, during my truck purchase. They were very helpful and informative. Everyone that worked there was...
Nick Vasko, December 5, 2021
I have to say Joe and Mark went well above anything I expected. I had three cars for them to sell and had my guard up as I have not had the best experiences...
Marcos Higgs, January 10, 2022
Hands down this is the best used car dealership in Winnipeg to deal with. I found them on line was looking to purchase a truck I seen. The sales team...
Shaun Element, November 17, 2021
We recently bought our first RAM 1500 from Auto Show, it's a great dealership with extremely unique layout. David in the finance team helped me &...
Joly James, October 5, 2021
This was the second time in two years we have purchased from the Auto Show. This time we were looking for a slightly used RAM 1500. We searched everywhere...
Michael Taylor, September 14, 2021
Bought a used 2018 Kia Stinger GT for them. Great service and friendly staff. Would highly recommend buying a car from them if you are looking for one....
Matthew Hart, August 1, 2021
I had a wonderful shopping experience for the purchase of my used truck, Eric is very friendly and patience to give detailed answer to my question,...
LarryM66, Jun 6, 2021
Excellent customer service. Had a pressure-free experience. Matt was fantastic to work with. Couldn't have asked for more! Would 100% recommend...
Seungkyu Park, Jul 5, 2021
From the minute I walked in the door at auto show I was met with class and respect for my time. I felt looked after and will be telling my friends and...
Shaun N, Jul 20, 2021
Best place to buy a used vehicle Winnipeg, awesome inventory and reasonable honest pricing. Friends and family have also purchased there and agree....
John Steves, 18 April 2021
They did awesome job. I got used car from them and they provide me really good price and very good finance rate. Thank you Kale and David for the awesome...
Singh Lubana, May 10th, 2021
customer service is the best around town. Can't find a better used truck dealership in Winnipeg then this dealership, I'll be coming back in...
Ss owner, Apr 3, 2021
Best place to buy a used car in Winnipeg, awesome inventory and reasonable honest pricing. Friends and family have also purchased there and agree. Highly...
John Steves, Apr 22, 2021
Had a great experience dealing with Mark from Autoshow! AutoShow is not like most dealerships that I have had experience with. They have an inviting...
Adam Stanger, Apr 1, 2021
From start to finish…Auto Show Sales & Finance delivers! When you first walk in, this used car dealership is incredible, has a great lounge...
andrewwoodej, Mar 9, 2021
Hands down the best experience I have had with any used car dealership. I could not recommend them enough and wish every dealership was required to...
Charles, Mar 18, 2021
I was very impressed with this used car dealership. From sales to finance department. They were professional,courteous,knowledgeable about the vehicles.Josh...
petebueckert6925, Feb 6, 2021
Excellent experience at auto show with Josh, Joe and Tyler. They were easy going and no pressure. I would recommend this used car dealership to a friend...
B Kostyk, Feb 5, 2021
Awesome used truck dealership to deal with very friendly and very professional Extremely pleased thank you to Josh Minnie and David Thompson Wonderful...
Shannon, Jan 2, 2021
Very good used car dealership. We just bought a 2015 Subaru Impreza here for a good deal. The car was super clean and the staff were super helpful!...
AlexH, Dec 13, 2020
Great used car dealership
Easy transaction and great people to work with
The whole process from start to finish and tacking car ownership...
rjhamedani, Dec 13, 2020
Great people! Now my second purchase with this used car dealer, the staff is amazing, they work hard to make a deal to fit your needs, for the vehicle...
Wes, Dec 11, 2020
David and his team were professional, knowledgeable, and friendly. David went above and beyond to get us what we asked for. I would definitely recommend...
lee&heather1234, Nov 30, 2020
Wonderful staff ! Great experience ! It was so pleasant dealing with the staff. They were cordial, friendly, and answered questions to our satisfaction....
joyram, Dec 3, 2020
Bought my first used car from them, 2016 Chrysler 300
Limited AWD. Mark and Dave were amazing, felt no pressure and was so easy to deal with and...
Courtney, Nov 20, 2020
Great communication, super fast service, friendly, fair pricing! What more could I have asked for! Also thanks for taking Covid 19 seriously,.. muchly...
Kevin M., Nov 16, 2020
My husband and I bought a used SUV 2016 Jeep Cherokee, our First time buying car and David made it be the best experience ever! So happy with our purchase...
abigail Shaw, Nov 8, 2020
My experience at Auto Show Winnipeg was second to none! The staff is extremely friendly and helpful, they went way beyond expectation and I'm loving...
Carri Lipps, Oct 22, 2020
Auto show was very helpful. It was a stress free used car buying experience from the test drive to purchase. All the staff were helpful and patient...
duane, Oct 24, 2020
We didn't know about Auto Show or the great loaded 2018 Cadenza which now sits on our driveway. From the minute we entered the dealer's front door...
Cadenza, Oct 7, 2020
From the moment I called and spoke with Josh Munn to the moment we completed the financing with Tyler Main to purchase our vehicle was a great experience....
Anita, Oct 8, 2020
The fellas at this used car dealership were no hassle, no pushing of products. I had a vehicle in mind they slapped the plates on it and let us drive...
Ryan Wiebe, August 12, 2020
I had the absolutely best experience in over 50 years of buying new and used cars from the Auto Show and Finance of any dealership I have ever dealt...
chief1594, Aug 8, 2020
The guys were all wonderful to deal with! Very friendly, courteous & knowledgeable. Kale & Chris were extremely friendly & helpful finding...
David & Nicole, Jul 6, 2020
I bought a 2018 Jeep Grand Cherokee at Autoshow in Winnipeg last week and it was a really positive experience! I received a prompt reply to my initial...
marcieharrison21, June 03, 2020
Great atmosphere with very friendly staff. They were very helpful in finding a vehicle that suited our needs and were diligent in answering any questions...
ebueckert19, June 11, 2020
Needed a new vehicle, drove past Autoshow and decided to check it out. Happy I did, I met with Joe who helped me find the perfect vehicle for me. It...
Ashley, June 22, 2020
Best used car dealership out there. Great selection of vehicles. Very knowledgeable staff. Just explain what you need and they will find it. Wouldn't...
Mo powa, Jul 20, 2020
Welcome to Auto Show's Finance Department
Prompt and Efficient Dealer Financing 
Relaxed Atmosphere
No Bank Appointment 
Credit Rebuilding


(Regardless Of Credit History)









With a single platform, gain access to more than a dozen Chartered Banks, Credit Unions, and Specialty Lenders, all competing to earn your business. From impeccable history through to bumped and bruised, take advantage of this service – free with any purchase.
Our team of experienced Financial Advisers will do all your leg work: requesting quotes from your day-to-day bank, identifying potential savings from competitors, transmitting paperwork, running cheques, everything to make your life easier. No visits back and forth to branches, no waiting for appointments, no bankers' hours; just one easy application, and one convenient location.
Ask one of our experts to structure your application or complete it yourself online and start from the comfort of your own home.
*Commercial Clients: Be sure to ask about pre-owned leasing options now available!
Charitable Initiatives
We believe in giving; our mission is to support our community. Each and every month our reach extends beyond fulfilling automotive needs, to supporting causes from amateur athletics, to health initiatives, arts, food, and economic empowerment. Please see our dealership's blog for a list of not-for-profit and charitable initiatives we've selected in the past, as well as for steps on how to forward a passion of yours for consideration.
We believe everyone deserves to be treated with respect and fairness, always. Your experience with us should be lighthearted and fun, warm and hospitable. Please do come and visit, coffee, popcorn, cookies and a game of pool in the lounge await you.
DO I NEED WARRANTY?
Did you know, many of our pre-owned vehicles still carry manufacturer's warranty? Yes that comes with it for free!  You can also add to your manufacturers warranty and purchase an extended length of coverage to provide maximum duration of years and mileage. Looking at a vehicle that is a bit older? Great, you have at your disposal a wide range of warranty options, all tailored to your driving habits, points of concern, and budget. For minimal dollars added to your monthly payment, this can give you peace of mind and certainty for your monthly budget.
Do I really need warranty though?  While no one can foresee the future, a comprehensive warranty is a well thought-out plan for the 'What If's' with Ever- Increasing Electronic complexities, and higher repair costs, it will certainly put your mind at ease, improve your vehicle's resale value, and of course protect your investment. Some used vehicles may also qualify for warranty plans that are partially refundable if not used or required.
Don't miss the opportunity to fully understand the options available to you and to make the choice that protects and best fits your circumstances. Our Finance Department will be happy to spend the time required to assist you in your decision.